Free 2014 Latest Cisco 200-120 Dump (161-170) Download!
QUESTION 161
Hotspot Question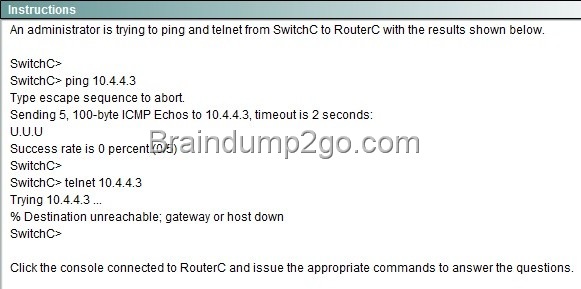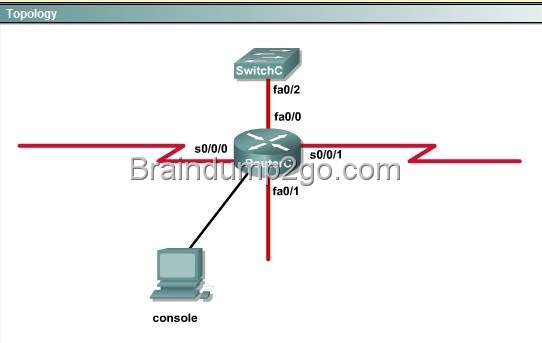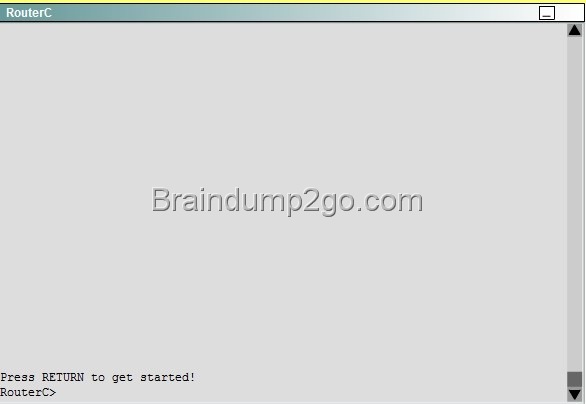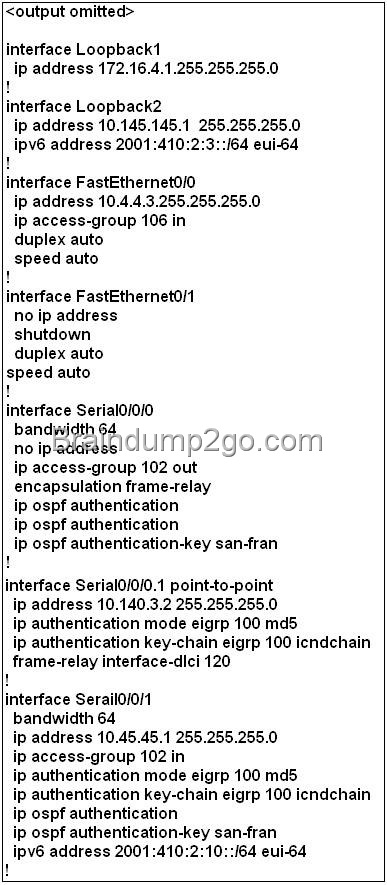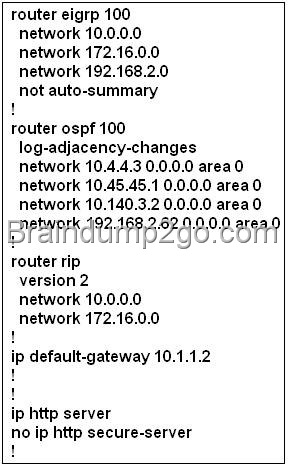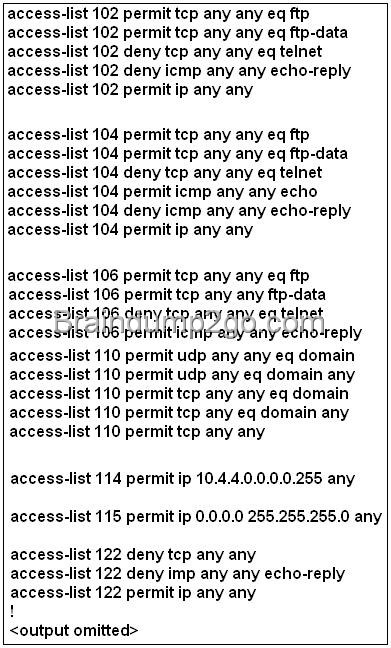 Which will fix the issue and allow ONLY ping to work while keeping telnet disabled?
A. Correctly assign an IP address to interface fa0/1.
B. Change the ip access-group command on fa0/0 from "in* to "our.
C. Remove access-group 106 in from interface fa0/0 and add access-group 115 in.
D. Remove access-group 102 out from interface s0/0/0 and add access-group 114 in
E. Remove access-group 106 in from interface fa0/0 and add access-group 104 in.
Answer: E
Explanation:
Let's have a look at the access list 104:


The question does not ask about ftp traffic so we don't care about the two first lines. The 3rd line denies all telnet traffic and the 4th line allows icmp traffic to be sent (ping). Remember that the access list 104 is applied on the inbound direction so the 5th line "access-list 104 deny icmp any any echo-reply" will not affect our icmp traffic because the "echo-reply" message will be sent over the outbound direction.
QUESTION 162
Hotspot Question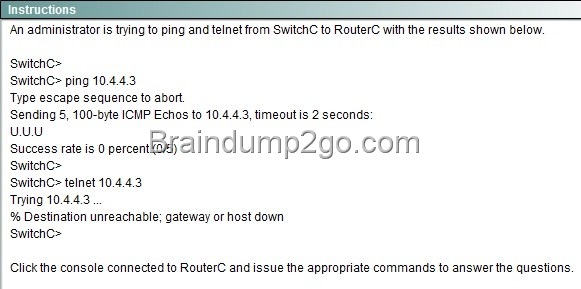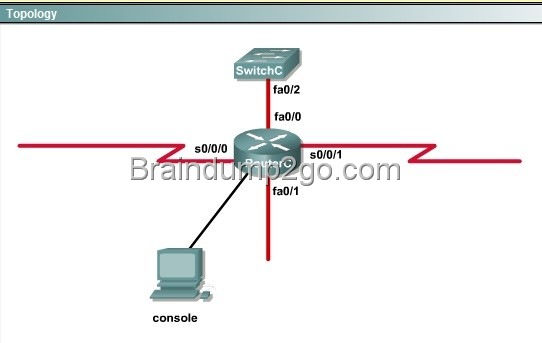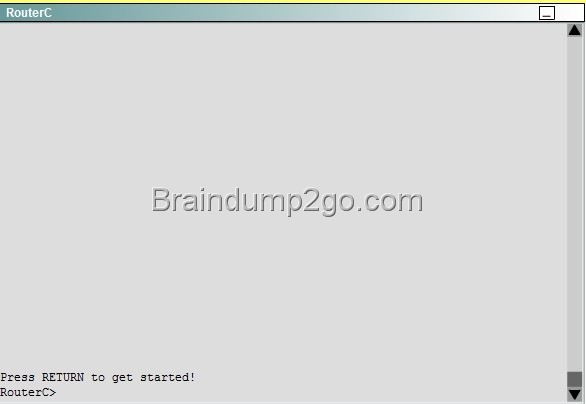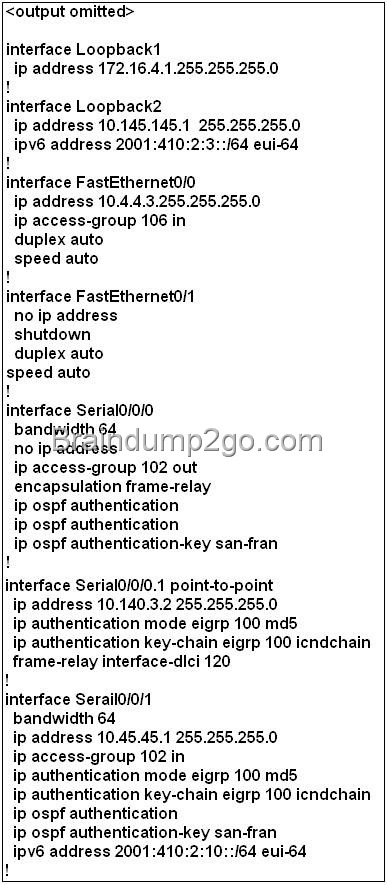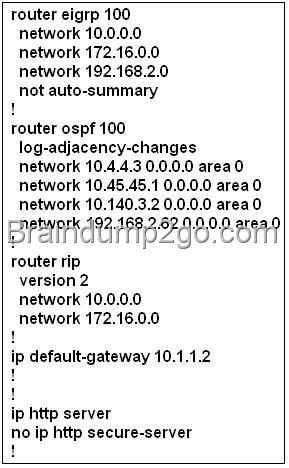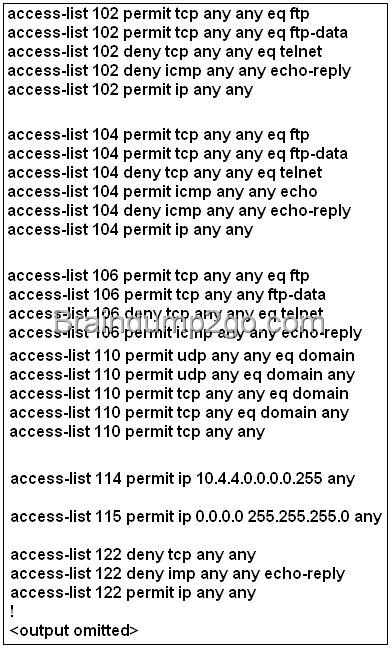 What would be the effect of issuing the command ip access-group 114 in to the fa0/0 interface?
A. Attempts to telnet to the router would fail.
B. It would allow all traffic from the 10.4.4.0 network.
C. IP traffic would be passed through the interface but TCP and UDP traffic would not.
D. Routing protocol updates for the 10.4.4.0 network would not be accepted from the fa0/0 interface.
Answer: B
Explanation:
From the output of access-list 114: access-list 114 permit ip 10.4.4.0 0.0.0.255 any we can easily understand that this access list allows all traffic (ip) from 10.4.4.0/24 network
QUESTION 163
Hotspot Question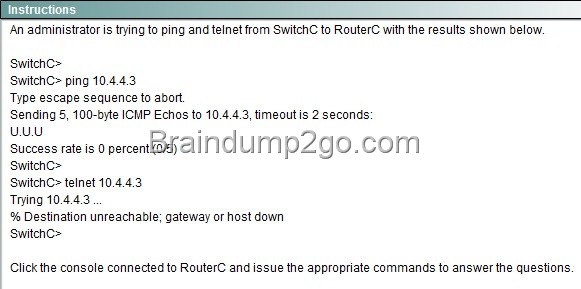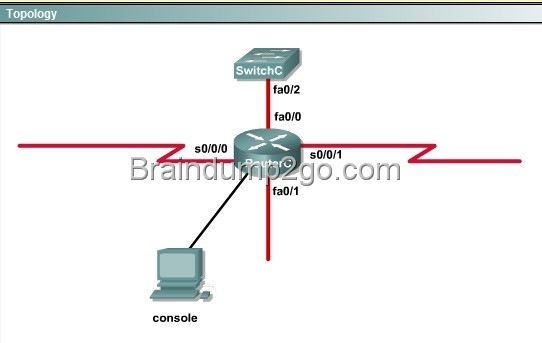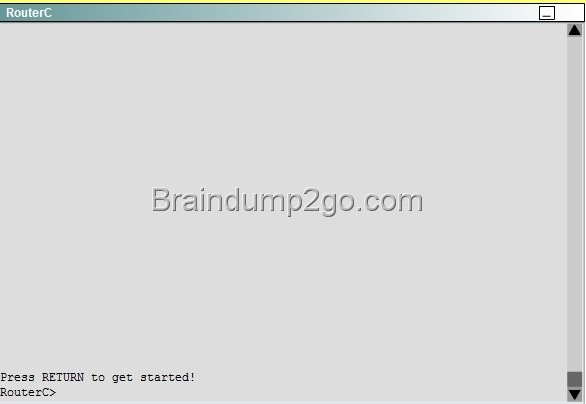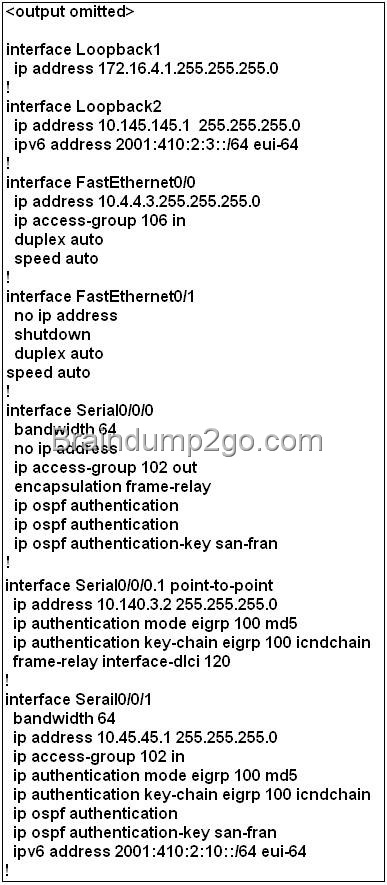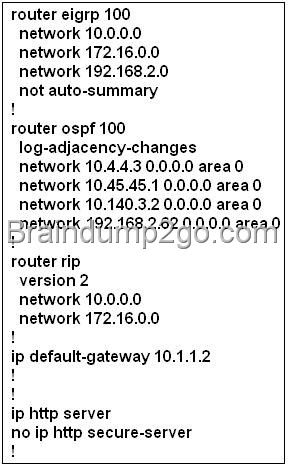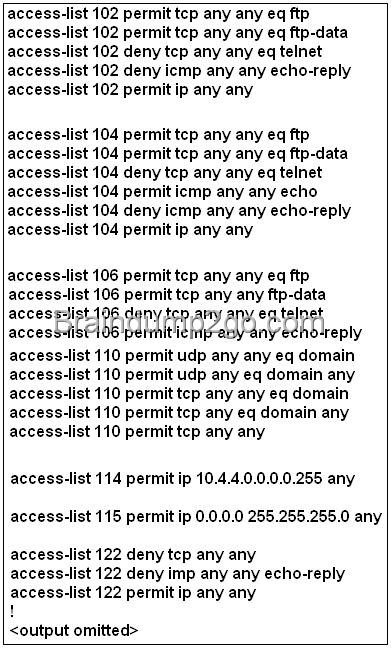 What would be the effect of Issuing the command ip access-group 115 in on the s0/0/1 interface?
A. No host could connect to RouterC through s0/0/1.
B. Telnet and ping would work but routing updates would fail.
C. FTP, FTP-DATA, echo, and www would work but telnet would fail.
D. Only traffic from the 10.4.4.0 network would pass through the interface.
Answer: A
Explanation:
First let's see what was configured on interface S0/0/1:

QUESTION 164
Lab Simulation Question – NAT-2
A network associate is configuring a router for the Weaver company to provide internet access. The ISP has provided the company six public IP addresses of 198.18.184.105 – 198.18.184.110. The company has 14 hosts that need to access the internet simultaneously. The hosts in the company LAN have been assigned private space addresses in the range of 192.168.100.17 – 192.168.100.30.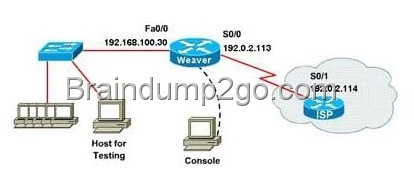 The following have already been configured on the router:
The basic router configuration
The appropriate interfaces have been configured for NAT inside and NAT outside
The appropriate static routes have also been configured (since the company will be a stub network, no routing protocol will be required.)
All passwords have been temporarily set to "cisco"
The task is to complete the NAT configuration using all IP addresses assigned by the ISP to provide internet access for the hosts in the weaver LAN. Functionality can be tested by clicking on the host provided for testing.
Configuration information:
Router name – Weaver
Inside global addresses – 198.18.184.105 – 198.18.184.110 /29
Inside local addresses – 192.168.100.17 – 192.168.100.30 /28
Number of inside hosts – 14
Answer:
Step 1: Router Name
Router>enable
Router#configure terminal
Router(config)#hostname Weaver
Weaver(config)#
Step 2: NAT Configuration
Weaver(config)#access-list 10 permit 192.168.100.16 0.0.0.15
Weaver(config)#ip nat pool mynatpool 198.18.184.105 198.18.184.110 netmask 255.255.255.248
Weaver(config)#ip nat inside source list 10 pool mynatpool overload
Weaver(config)#end
Step 3: Save Configuration
Weaver#copy run start
Verification:
We can verify the answer by pinging the ISP IP Address (192.0.2.114) from Host for testing.
Click "Host for testing"
In command prompt, type "ping 192.0.2.114". If ping succeeded then the NAT is working properly.
Screen Shots: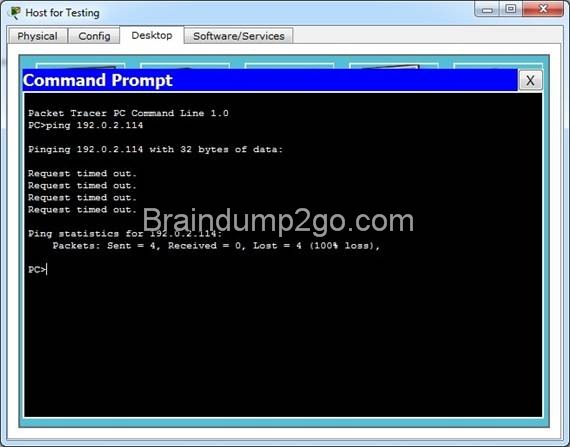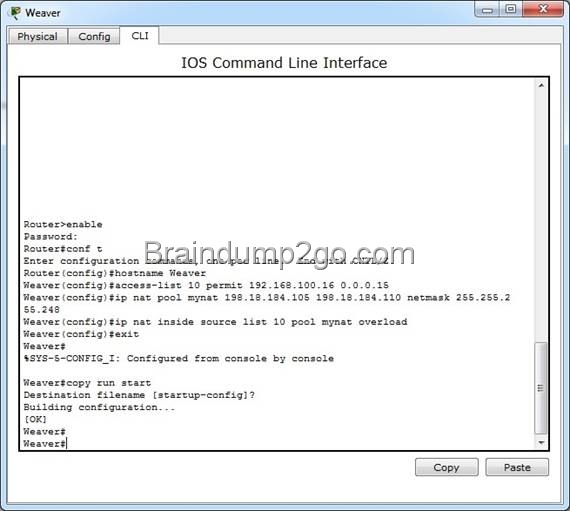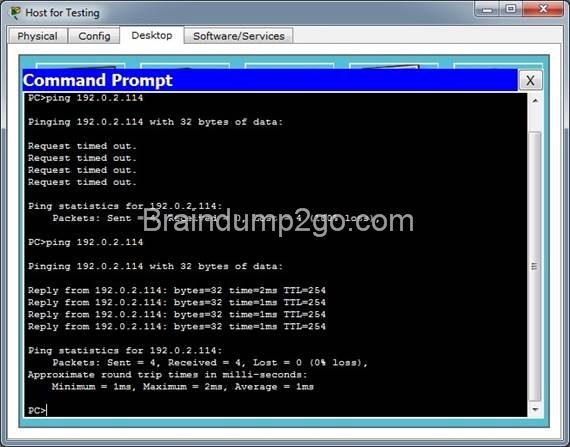 QUESTION 165
In a switched environment, what does the IEEE 802.1Q standard describe?
A. the operation of VTP
B. a method of VLAN trunking
C. an approach to wireless LAN communication
D. the process for root bridge selection
E. VLAN pruning
Answer: B
Explanation:
A broadcast domain must sometimes exist on more than one switch in the network. To accomplish this, one switch must send frames to another switch and indicate which VLAN a particular frame belongs to. On Cisco switches, a trunk link is created to accomplish this VLAN identification. ISL and IEEE 802.1Q are different methods of putting a VLAN identifier in a Layer 2 frame. The IEEE 802.1Q protocol interconnects VLANs between multiple switches, routers, and servers. With 802.1Q, a network administrator can define a VLAN topology to span multiple physical devices.
Cisco switches support IEEE 802.1Q for FastEthernet and Gigabit Ethernet interfaces. An 802.1Q trunk link provides VLAN identification by adding a 4-byte tag to an Ethernet Frame as it leaves a trunk port.
QUESTION 166
What are three benefits of GLBP? (Choose three.)
A. GLBP supports up to eight virtual forwarders per GLBP group.
B. GLBP supports clear text and MD5 password authentication between GLBP group members.
C. GLBP is an open source standardized protocol that can be used with multiple vendors.
D. GLBP supports up to 1024 virtual routers.
E. GLBP can load share traffic across a maximum of four routers.
F. GLBP elects two AVGs and two standby AVGs for redundancy.
Answer: BDE
QUESTION 167
Which three statements about HSRP operation are true? (Choose three.)
A. The virtual IP address and virtual MA+K44C address are active on the HSRP Master router.
B. The HSRP default timers are a 3 second hello interval and a 10 second dead interval.
C. HSRP supports only clear-text authentication.
D. The HSRP virtual IP address must be on a different subnet than the routers' interfaces on the same LAN.
E. The HSRP virtual IP address must be the same as one of the router's interface addresses on the LAN.
F. HSRP supports up to 255 groups per interface, enabling an administrative form of load balancing.
Answer: ABF
QUESTION 168
Which three statements about Syslog utilization are true? (Choose three.)
A. Utilizing Syslog improves network performance.
B. The Syslog server automatically notifies the network administrator of network problems.
C. A Syslog server provides the storage space necessary to store log files without using router disk space.
D. There are more Syslog messages available within Cisco IOS than there are comparable SNMP trap messages.
E. Enabling Syslog on a router automatically enables NTP for accurate time stamping.
F. A Syslog server helps in aggregation of logs and alerts.
Answer: CDF
QUESTION 169
A network administrator enters the following command on a router: logging trap 3. What are three message types that will be sent to the Syslog server? (Choose three.)
A. informational
B. emergency
C. warning
D. critical
E. debug
F. error
Answer: BDF
QUESTION 170
What is the default Syslog facility level?
A. local4
B. local5
C. local6
D. local7
Answer: D
If you want to pass the Cisco 200-120 Exam sucessfully, recommend to read latest Cisco 200-120 Dump full version.